News December 2018
Pupils and teachers alike have been kept on their toes right through to the Christmas holidays.
DOGS TRUST
Heather from Dogs Trust came to visit with her dog Jack. Heather gave a lovely talk on the work of Dogs Trust and caring for dogs. Everybody was highly impressed with the highly informative talk and more especially with Jack's great behaviour, a well-trained one year old !
CHRISTMAS PLAYS
Our eagerly awaited Christmas plays got under way at 7p.m on Thursday the 13th of December in the Holy Cross Church Stradbally. We had three separate performances: On stage first were the junior and senior infants with "The Sleepy Shepherd". Every child played their part to perfection a credit to Mrs. Crowley and Colette Cullinan with over thirty, four to six year olds. Next up were first to third class with their play "Santa's Missing Hat". Again, their singing and acting was down to a fine art under the watchful eye of their teacher Ms Natalie Browne. Finally, up on the stage were fourth, fifth and sixth class with their twist on "Little Red Riding Hood". The singing was spectacular and the acting second to none. Well done Mr. Walsh. Many thanks to our drama teacher Ms. Hogan who helped prepare the children for their plays. Donations at the door were given to the Lions Club Christmas Appeal.
WOODHOUSE
Having partaken in drawing in drawing Woodhouse for a Christmas Card Laura Doheny's (sixth class) picture was chosen by Jim and Sally Thompson as the one to be printed and there was a copy for everybody in the audience! Well done Laura. On the 14th of December junior infants to second class were invited to Woodhouse to meet Santa. This was truly amazing. Santa's elf greeted us on arrival and lead us to a tree covered hill where we climbed seventy steps to meet Santa in his cavern and play in the playhouse. Then we were brought for a Christmas party and entertainment in the Walled Garden where Santa came and gave each child a present. This was repeated on Monday the 17th December for third to sixth class. Every child and teacher went home very happy. A huge thank you to June James, Santa and his elf and all those who made this such a memorable occasion. But most of all thank you to Jim and Sally Thompson without whom this would not have been possible.
Christmas Card Art Winners
Christmas Party at Woodhouse
CHRISTMAS RAFFLE
On the day of the Christmas holidays the parent's association had their Christmas draw in the school. The raffle was very well supported by all the school community. The winners were as follows:
Shane Fennell (Sallyfort Farm Voucher)
Ryan Costello (Aine's Kennels Voucher)
Helen Costello ( Ballinacourty Hamper)
Tina Oates ( Fruit hamper Ballinacourty)
Sean D'arcy ( Flahavans Hamper)
Breda Costello ( Nail Varnish Set)
Ryan Keegan ( hamper)
Santa also visited on the day of the holidays thanks to Dermot O' Brien from Sallyfort Farm.
Santa Visits the School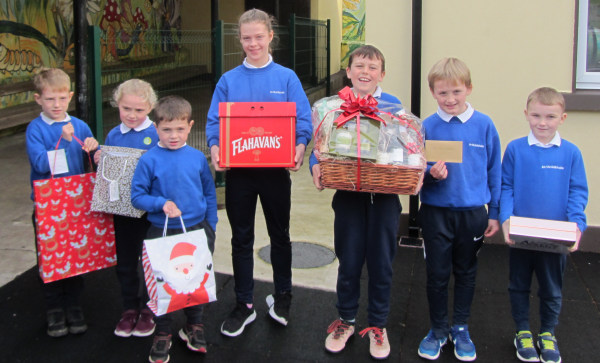 Christmas Raffle Winners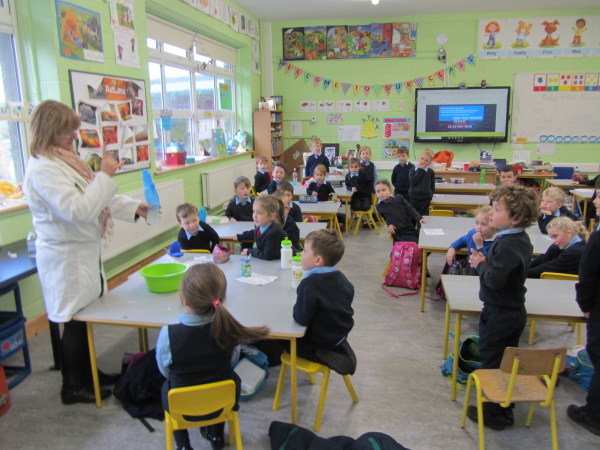 Science Week in Mrs Crowley's Room
Junior and Senior Infants with their Shoeboxes
RED KETTLE
In January we are looking forward to what has become a yearly visit from Red Kettle. Each year they come and produce some wonderful shows and the children love to be chosen to get involved. I'm sure we are in for another cracker this year.