Newsletter February 2020
We are delighted to notice the brightening mornings and the daffodils which are starting to make their appearance on the way to school. There is also an excellent atmosphere of hard work in the school at present and lots of interesting educational opportunities being enjoyed this term.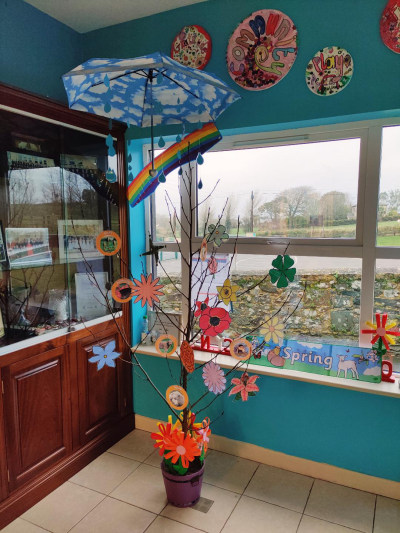 Spring has sprung!
Junior Infants designed their own cloak to celebrate St. Brigid's Day.
The Junior Infants were busy during Aistear this month which focused on the Doctor's Surgery.
The Junior Infants designed bees for Valentine's Day- "Bee Mine!"
1st class have been busy learning all about France.
2nd, 3rd & 4th class made their own flower baskets for spring.
Under 11 Credit Union Quiz Team | Under 13 Credit Union Quiz Team

Seachtain na Scoileanna Caitliceacha; Catholic Schools Week 26th January- 2nd February.
We recently celebrated Catholic schools week. We reflected on the contribution that Catholic schools make to Irish life and we thank Fr. Condon for celebrating Friday mass with us. Fr. Condon showed the Junior Infants around the church and lit a candle for every child. All the children enjoyed learning more about the special things in our churches.
We celebrated the feast of St. Brigid's Day in school and marked the beginning of spring. The children designed their very own cloak in Junior Infants, Senior Infants and 1st class.
Credit Union Quiz
Well done to our under 11 and under 13 teams who took part in the Dungarvan Credit Union quiz on Monday, 3rd of February. Both teams did extremely well and represented our school well They should be very proud of themselves. Thank you to Ms. Mitchell who helped prepare the children and to all parents who attended on the night.
Searmanas Rollaithe: Enrolment Ceremony:
The 2nd class pupils took part in their enrolment ceremony as part of their preparation for the sacrament of communion. Thank you to Ms. Kiely for helping the children prepare for their First Holy Communion. First Holy Communion will be celebrated on Saturday, 16th of May 2020 in Holy Cross Church, Stradbally.
Féilire na Scoile go dtí an Cháisc: School Calendar to Easter
The following are the key dates which will take us up to the Easter holidays.
Mid-term break – school will be closed on 20th & 21st of February.
Swimming lessons for 2nd -6th classes will commence after the February midterm break
5th March: World Book Day
13th March: The School will close at 12 o'clock on Friday, 13th March for teacher in-service.
17th March: St Patricks Day (school closed Monday, 16th and Tuesday 17th)
22nd March: Mothers Day
23rd March: The pupils in 2nd class will receive the Sacrament of Penance in Holy Cross Church, Stradbally
29th March: Clocks go forward
World Book Day
World Book Day World Book Day takes place on Thursday, 5th of March. All pupils will receive a World Book Day Book Token worth €1.50 to use towards a book at participating bookshops. The book token can be swapped for one of a choice of 12 books (list of this year's books is available on www.worldbookday.com/books) or the book token can be used to get €1.50 off a full price book. We invite pupils to dress up as their favourite book character on Friday, 6th of March.
Cúrsaí Spóirt: Sports News
Our school hurling team played Scoil Mhuire, Abbeyside in a friendly match recently. They performed very well. Thank you to the pupils and staff of Scoil Mhuire for their hospitality. On Friday, 14th February we play Newtown N.S. in a hurling match.
Food Dudes
We are now entering the maintenance phase of the Food Dudes programme which will begin on March 23rd. This phase encourages children to continue to increase their consumption of fruit and vegetables throughout the school year. The aim is to inspire children to develop healthy eating habits for life!