Newsletter December 2019/January 2020
Pupils and teachers alike have been kept on their toes right through to the Christmas holidays.
Christmas Play and Concert
Our eagerly awaited Christmas plays got under way at 7.30p.m on Thursday the 12th of December in the Holy Cross Church, Stradbally. The Junior Infants performed their nativity play first and every child played their part to perfection and sang beautifully. Next up were first to sixth class. The fifth and sixth class pupils read prayers and accompanied the other pupils as they sang Christmas carols. Pupils in second, third and fourth class played the drums while first class pupils played the hand bells. The senior infants joined their schoolmates for the last few songs. All pupils had practised extremely hard to perfect their performance under the guidance of their teachers.
The singing and acting was spectacular. Well done Mr. Walsh. Many thanks to all the staff who put a great deal of time and effort into the night- Mr. Walsh, Mrs. Jones, Ms. Kiely, Ms. Foley, Ms. Mitchell, our drama teacher, Ms. Hogan and Colette who helped prepare the children for their performances. Donations at the door were given to the Lions Club Christmas Appeal.
Woodhouse
IN late November we were very lucky to have a visit from renowned artist, Justin Hindley. Justin came to the school and did art activities with pupils from 1st to sixth class. All pupils really enjoyed this and produced some wonderful art work. On the 13th of December junior infants to first class were invited to Woodhouse to meet Santa. This was truly amazing. Santa's elf greeted us on arrival and lead us to a tree covered hill where we climbed seventy steps to play in the playhouse. We were then brought for a Christmas party and entertainment in the Walled Garden. The children enjoyed dancing to Christmas songs, playing outdoors and best of all Santa came and gave each child a present. This was repeated on Monday the 16th of December for second to sixth class. Every child and teacher had a wonderful time. We are so grateful for the generosity shown by all those at Woodhouse. Thank you to June James, Santa and his elf and all those who made this occasion so memorable Sincere thanks to Jim and Sally Thompson without whom this would not have been possible.
Art with Justin Hindley
Christmas Raffle
On the day of the Christmas holidays the parent's association had their Christmas draw in the school. The raffle was very well supported by all the school community. The winners were as follows:
(The Moorings Bar& Restaurant Voucher) – Martina and Peter Jones
(Dungarvan Golf Club Voucher) – Emmie Halpin
(Cash Prize) – Jimmy Walsh
(Ballinacourty Produce Hamper) – Roger Ronayne
(John Deere Body Warmer Age 9-10) – Quinn Marie Donnelly
(John Deere Overalls Age 9-10) – Caoimhe Kiely
(Kirwan's Pharmacy Nivea for Women Hamper) – Tucker Cunnigham
(Kirwan's Pharmacy Nivea for Women Hamper) – John Power
(Wine Presentation Pack) – Darcy & Georgia Purcell
(Bottle of Red & White Wine) – Andrew Walsh
(John Deere Prize Pack) – Kerry Ann Donnelly
Santa also visited on the day of the holidays. Huge thanks to the Parents Association who organised this visit.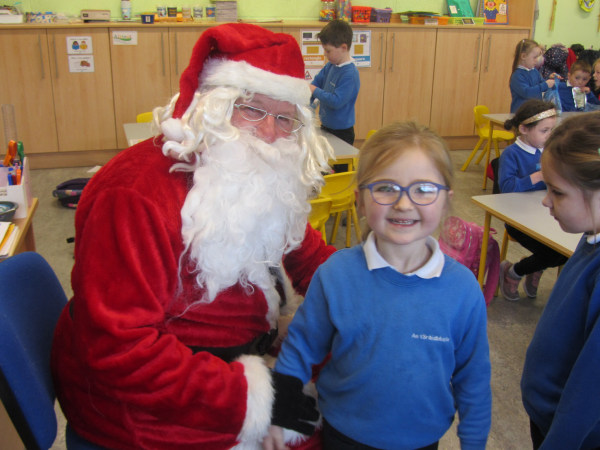 Santa Visits the School
Christmas Raffle Winners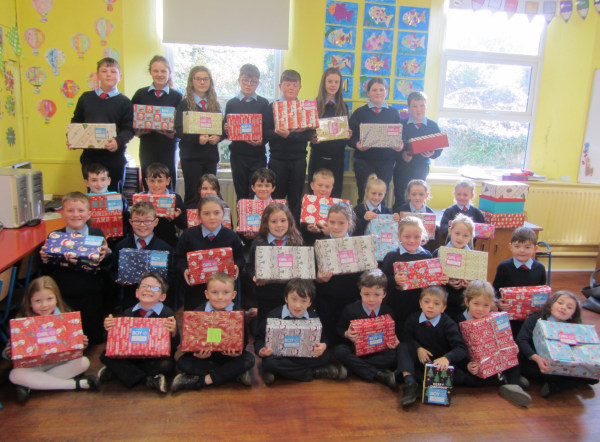 Shoeboxes
Little Red Kettle
On January 21st we are looking forward to what has become a yearly visit from Red Kettle. Each year they come and produce some wonderful shows and the children love to be chosen to get involved. I'm sure we are in for another cracker this year.
Debating
On the 20th November fifth and sixth class pupils took part in their very first debating competition held in Killea B.N.S, Dunmore East. Our pupils spoke extremely well and went on to win the debate. On the 17th December we welcomed pupils from Holy Cross, Tramore to our school for our second debate. All pupils involved did really well and Holy Cross won after a very close debate. We enjoyed hosting our first debate welcoming other pupils, teachers and judges. Sincere thank you to Ms. Foley who has helped the fifth and sixth class pupils prepare their speeches and has accompanied them at debates in other schools.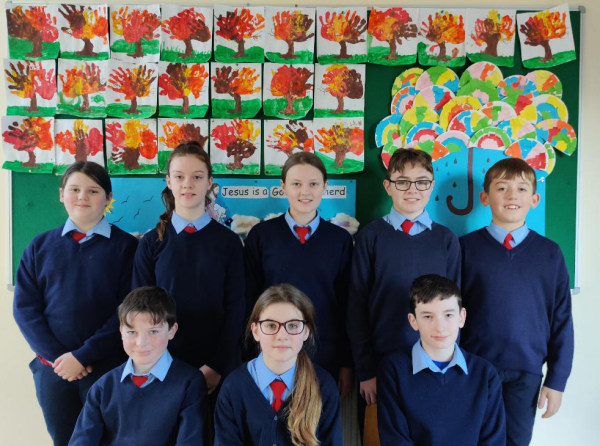 Debating Team
Gymnastics & Drama
Our second last week in school before the Christmas break saw our Drama and Gymnastics classes come to an end. All children thoroughly enjoyed both activities and learned a great deal. Thank you to Ms. Aileen Hogan and Kenneth and Mikey from DKAM Sports.
Equestrian Inter-schools Ireland Competition
On Sunday, 19th January three of our pupils took part in an Inter-Schools Show Jumping competition held by Equestrian Inter-Schools Ireland in Co. Wexford. Our pupils competed in the 75cm height division. They did very well and we are very proud to have them representing our school.
Equestrian Inter-schools Ireland Team
Artwork
A sneak peek of artwork from all the classes!
Junior Infants Artwork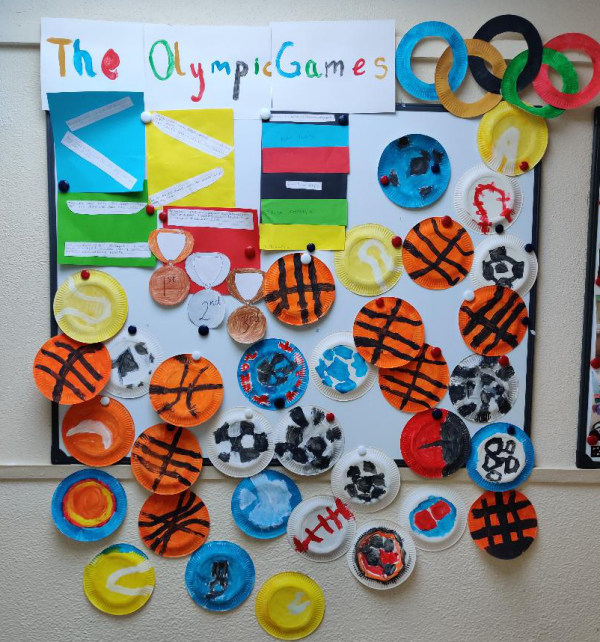 Senior Infants & 1st Class Artwork
2nd, 3rd & 4th Class Artwork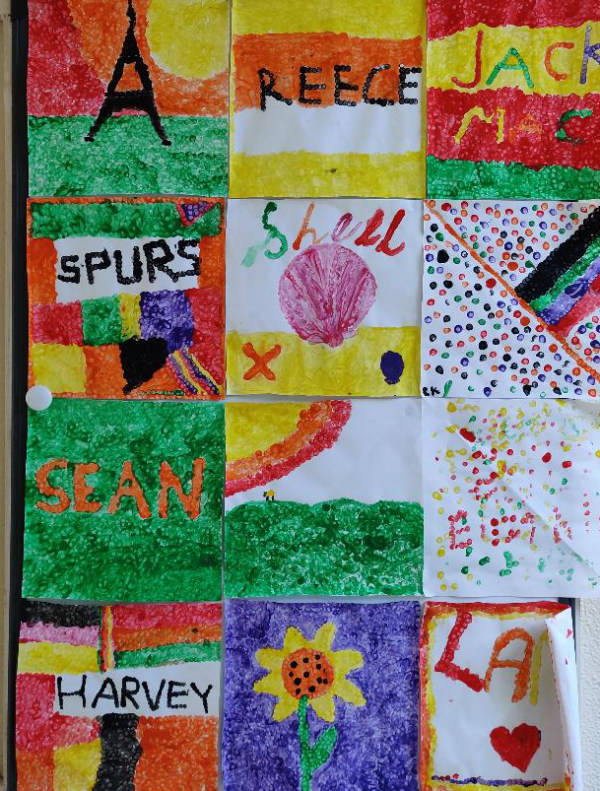 5th & 6th Class Artwork