Newsletter October 2020
An Chéad Chomaoineach: First Holy Communion
The children in second class received their First Holy Communion at a special Mass on 6th October in Holy Cross Church, Stradbally. We would like to say a big thank you to Miss. Kiely for doing a wonderful job preparing Ríain, Andrew and Faye for their First Holy Communion. Thank you to Fr. Condon for making the night so special. We wish the children, their parents and their families every blessing at this important time in their lives
Goal Jersey Day
GOAL Jersey Day took place on Friday, 9th October. The staff and students wore their favourite jersey for the day in an effort to raise much needed funds for GOAL. This year we raised €223. Well done to all!
Seachtain na Mata: Maths Week
The children took part in Maths Week which runs from 10th-18th October. In the individual classes the teachers set up fun and enjoyable maths questions to challenge and improve numeracy. The children enjoyed solving puzzles and playing games.
Ag Cócaireacht leite: International Porridge Day
Miss Mitchell's Junior Infants and Senior Infants had lots of fun making their own porridge with all the toppings to celebrate World Porridge Day on Friday, 9th October. It went down a treat!
Making Porridge!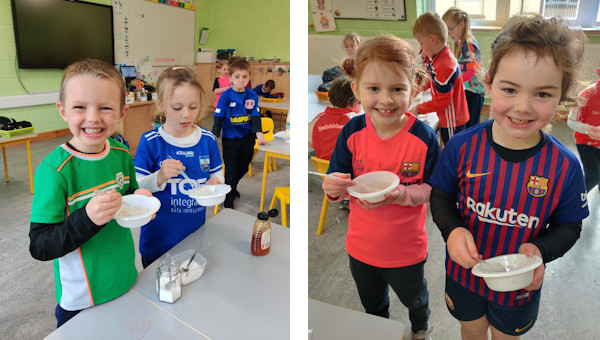 Shane & Holly ag ithe leite. Éabha & Sarah enjoying porridge.
Junior & Senior Infants Art
Senior Infants & 1st Class Art inspired by the poem 'Fat Old Witch'
2nd & 3rd Class Egyptian Art
4th, 5th & 6th Class Art
Goal Jersey Day - Junior & Senior Infants
Goal Jersey Day - Senior Infants & 1st Class
Goal Jersey Day - 2nd & 3rd Class
Goal Jersey Day - 4th, 5th & 6th Class