Newsletter September 2020
Fáilte
Fáilte ar ais ar scoil! Welcome also to our new pupils and their families. It is great to be back after such a long closure. Sincere thanks to all the parents and pupils for their cooperation with our Covid-19 safety measures which help to keep everyone safe. We are off to an excellent start to the school year, despite the unprecedented situation that we find ourselves in. The children have settled in wonderfully well and have clearly benefited from the time they have spent in the intimacy of their own homes over the past number of months. Thank you to all parents and guardians for your support in preparing the children for the return to school.
Junior Infants September 2020
New Junior Infants
We have got off to a very busy start to the new school year with lots of fun, activities and learning underway. Miss Mitchell's new Junior Infants are settling in well in our beautiful new classroom. Miss Mitchell's class are having lots of fun as they settle into school life and are enjoying making new friends and getting to know one another. They have been learning new letters and sounds, creating art work, learning new skills during PE time.
Arrangements for arrival and departure times
Overall we are very happy in relation to the arrangements that are currently in place. Thanks to everyone the safety measures are working very well. Thank you to the many parents who are endeavouring to maintain appropriate social distancing outside the school in the mornings and afternoons as this helps avoid larger gatherings developing at busy drop-off and pick-up times.
Green Schools Flag
Our Lady of Mercy N.S. is currently working towards our first Green Schools Flag which is awarded by An Taisce. It is the school's aim to reduce the volume of rubbish it currently creates. Ms. Foley is leading the children on the Green School committee and helping them promote and acknowledge long-term, whole-school action for the environment. This continues to be an exciting and new adventure for the school.
New iPads
We are very excited by the addition of 12 brand new iPads to our school this year. The use of iPads in class will support the children's learning and compliment the work of our teachers. The children have been eager to try out the various news apps. Mrs. Jones's Senior Infants and 1st class have been using them during their literacy stations while Mr. Walsh's 4th, 5th and 6th class have been busy using the iPads for research purposes.
Slán Rang a Sé
As always, we were very sad to say goodbye to Sixth Class after eight years. We enjoyed a lovely send off for the pupils, their families and staff in June. What a super bunch of children! We wish them all happiness and success in the future as they continue their education in secondary school. Thank you for enriching our school while you were here. We miss you!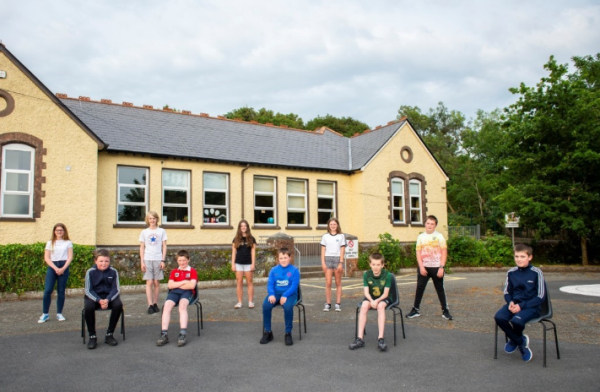 6th Class Graduation
Art Work Displays
Our school is looking more colourful each week as all classes have been getting very creative and imaginative with the help of their teachers, Colette our SNA and Brendan Gough who is on placement from Mary Immaculate College. Below are pictures of the beautiful displays of art work from each class.
Junior & Senior Infants
Senior Infants & 1st Class
2nd and 3rd Class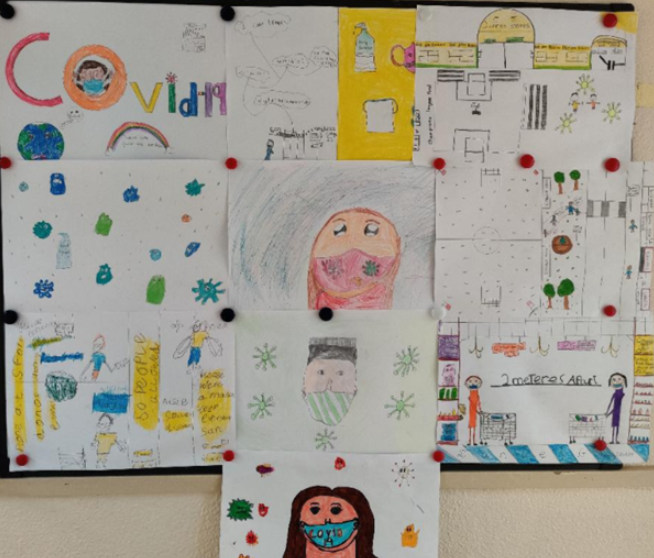 4th,5th,6th Class